Mild Winter Could Mean High Pest Pressure This Summer – Veg Farmer – Simon Jackson, Peter Waldock
There is no doubt that last year was one of the most challenging seasons on record. ...
A very dry start saw some growers running short of water at the end of April, before the heavens opened and it did not stop raining until the new year.
The legacy of flooding and wet soils delayed spring field work before another dry spell, which only really broke at the end of this April.
What is the legacy of such difficult growing conditions, together with the mild winter, on the likely pest and disease pressure for the coming year?
The Vegetable Farmer asked three agronomists who look after a range of crops for their thoughts.
Simon Jackson
"One of the most obvious issues for brassica growers comes from the high level of Clubroot seen in late 2019." comments Simon Jackson of Kirton-based AB Agronomy.
"Wet soil conditions and high levels of disease will have seen a high spore return to affected fields, while the movement of wet and muddy machinery during difficult harvesting conditions may have further spread the disease.
"In addition, poor soil structure in many fields is likely to lead to rooting barriers and potentially poorer drainage which increase susceptibility." However, he also stresses that the level of the disease which is actually seen in any season is highly dependent on any wet weather through July and August, and that even when there are potentially high spore numbers in infected fields the damage seen can remain relatively low in dry summers.
Peter Waldock
"Soil preparation has varied greatly from field to field and often fields which were ploughed in the winter have then sat very wet through the winter and have proved very hard to work, making it difficult to create a good seed bed," points out Peter Waldock, Veg Technical Lead at Hutchinsons.
"As a result, most farms started slowly and a there has been a considerable delay to field work which has impacted on very  early drillings of root crops, although growers seem to have caught up quickly."
This has meant a lot of earlier seed beds formed with a lot of clods on top from working wet soil from below, have been prone to capping, so that smaller-seeded crops have needed irrigation to get them through. "We have also seen some extreme temperatures under clear polythene laid over direct drilled crops," comments Peter. "Usually we would expect the poly to wick moisture up to the surface, but I have even had reports of soils capping under polythene.
"Some module-planted brassicas have had poor contact between the module and the soil where it wasn't possible to form a fine enough seed bed, and this has also led to a need for irrigation. Where irrigation is not available, or has not been used to aid establishment, there are concerns as to the activation of the herbicides and unless some rain is received in time, weed flushes could be an issue."
In terms of disease, Peter comments; "The disease pressure has not yet built up, even with the milder weather but with warm weather conditions, leaf disease could easily come in especially with morning dews and some short periods of rainfall followed by higher daytime temperatures.
Due to this risk, protectant fungicide programs should be put into place as soon as possible especially against diseases such as Ringspot and Alternaria which have a long latent period." He also stresses that the additional work required to create a seed bed in many fields increases concerns about root diseases such as Pythium and Fusarium on sensitive Umbelliferae crops.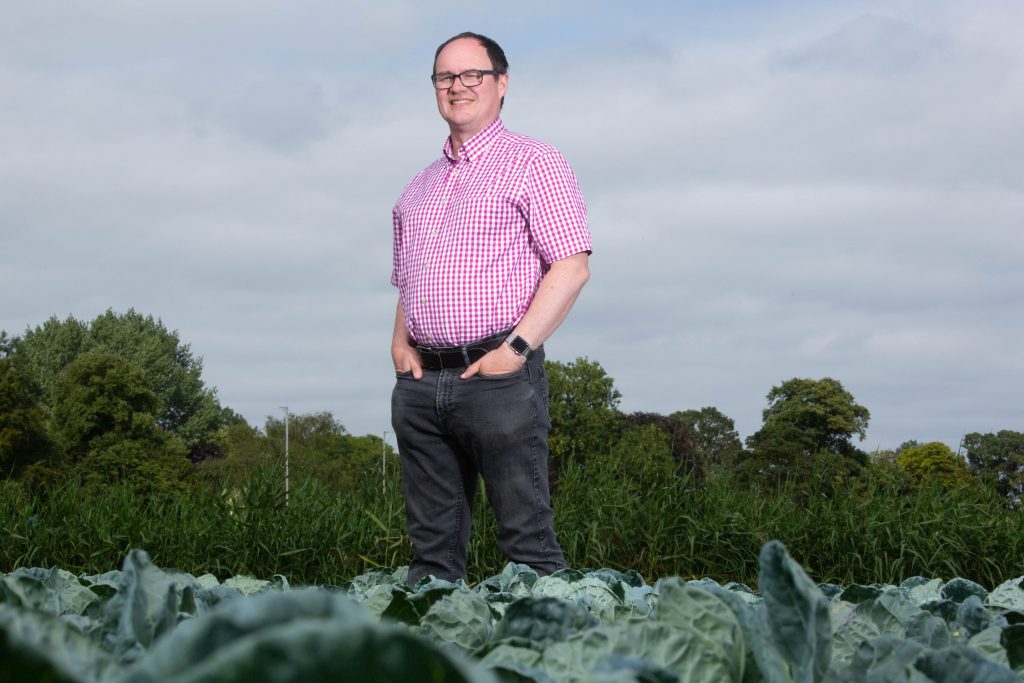 Peter Waldock, Veg technical lead
Howard Hinds
In terms of carrots, Howard Hinds of Root Crop Consultancy Ltd says; "The unprecedented Wet autumn and winter had some significant impacts on the 2019 carrot crop. The never-ending rainfall meant that a lot of fields due for harvesting in the autumn were abandoned in the field, and many late storage fields were left uncovered because straw laying was not possible in the wet conditions. which resulted in more exposed fields.
"A few of these crops were lost to water logging but many survived the mild winter without frost damage. In terms of root quality of both strawed and non-strawed fields, diseases such cavity spot and crown rot infection have not been as widespread as expected after such a wet winter, but Sclerotinia infection was more prevalent than usual." Howard says that a combination of foliage clipping, and strong fungicide programmes kept crown rots in check, however.
High numbers of willow-carrot and parsnip aphids were seen last season, but despite this he reports that levels of virus damage were generally not bad, except in some specific regions like Shropshire. "A new AHDB project (FV460) was started last year to investigate the timing of carrot virus transmission to improve management strategies," Howard continues. "The work being carried by FERA and Warwick University will hopefully give more understanding of what species of aphids are picking up what viruses, and when they are spreading them.
This year regrowth of uncovered crops in the spring has created the perfect shelter for wingless willow-carrot aphids. Monitoring by Warwick University at Wellesbourne showed numbers of these aphids increasing towards the end of March, until this work was suspended due to the Coronavirus lockdown. As of 18 April, the first winged willow-carrot aphids were being caught in suction traps in Devon, Kent and south Lincolnshire, making them on course again for an early migration after yet another mild winter."
Likely increase in activity from dry April
Simon Jackson agrees that until the warm and dry spell in April, relatively few aphids had been seen, but that April's weather conditions are likely to see a sudden increase in activity.
Insect pests are more prevalent in warm dry seasons," he points out.
"For example, we have observed a good relationship between dry springs and severe issues with whitefly through the following seasons. There is also some evidence that milder autumn/winter conditions increase the number of insect pests surviving as active stages, and this could also infer that resistant types are more likely to survive and emerge in higher numbers the following spring."
At a local level, yellow water bowl traps have started to be sited around carrot fields across the country and Howard explains that four major carrot producing companies: Hobson Farming; MH Poskitt; Huntapac Produce; and Strawson, are co-operating to share their trap data to give a regional network of aphid intelligence. "The trap network covers carrot growing areas in Shropshire, Nottinghamshire, Lincolnshire and Yorkshire," he says.
"Trapping is proving to be an important tool to target aphicides at the optimum timing for virus control. The aphicide armoury for carrots is limited so knowing when to treat is vital to keep virus damage to a minimum.
"Following the loss of Cruiser (thiamethoxam) seed dressing, another blow for aphid control will be when Biscaya (thiacloprid) which is the main aphid knockdown product in carrots, is lost after this summer. Flipper (fatty acids) is a new bio-insecticide available this season with organic approval, which we plan on evaluating, but the loss of frontline actives means that new aphicides will be needed by the carrot industry soon to fill the gaps for virus control."
Early pest infection
In terms of other crops, Simon Jackson adds that; "Issues are starting to re-appear around internal damage in storage cabbage caused by virus transmission by aphids.
Research by Professor John Walsh at Warwick illustrated a correlation between early virus infection in plants and increased disease symptoms, which means that insecticide seed treatments gave excellent control of early aphids, and when used in a strategy with foliar insecticide use, no internal virus symptoms were observed since their approval in the early 90's. "However, with the loss of such seed treatments and potential difficulties in achieving adequate control of aphids he says that growers are starting to see internal disorders appearing again.
Such developments are not good news when coupled with early pest infestations, and Peter Waldock says pests have been moving up to three weeks earlier this year than the average. "This spring saw second earliest emergence of Peach potato aphid in 41 years of monitoring," he comments.
"There have already been reports of aphids on emerging Asparagus spears due to the mild weather and virus issues are lightly to become more prevalent earlier this year with the early aphid movements."
Observations from last year
Of course, aphids are not the only insect pest of vegetable crops. "Last year saw an early flush of Diamond-back Moth migrating on southerly winds from the near continent," adds Simon. "These were well controlled and were less of an issue than in previous seasons, partly as this pest does not thrive in cool wet conditions, so was disadvantaged by the wet June."
He reports that in 2019 growers also saw an increase in pests previously considered as minor, such as Swede Midge and Cabbage Stem Flea Beetle. "Swede Midge caused severe damage in some fields shortly after transplanting during late June and July," he explains.
"Plant losses around 70 per cent were observed locally in some fields, and as there is currently no understanding of why Swede Midge damage is increasing; it will be interesting to see what happens in 2020.
"Cabbage Stem Flea Beetle incidence has also increased rapidly over the past two years: growers have recorded increasing damage in late planted overwintering crops such as spring greens. Last year, possibly due to the declining area of oilseed rape and reduced control, damage was seen in other crops such as Brussels sprouts and cabbage through September."
Simon also comments that, possibly as a result of the declining OSR area, adult beetles sought other brassica hosts and migrated to vegetable brassica fields during the season, causing direct feeding damage on buttons and leaf edges.
"Listening to the feedback from oilseed rape growers, CSFB has been a severe damaging issue again through the winter of 2019/20," he continues.
"Numbers are still high, and it is possible that the damage to vegetable brassicas will be similar or possibly higher in 2020."
"Pea and Bean weevil is already very active in early drilled and overwintered legumes, such as Broad Beans," warns Peter. "Slugs have been persistent all winter due to the lack of cold and will be expected to quickly devour crops which have not been treated with slug pellets. On a positive note though the pest predators such as ladybirds have also been spotted earlier than normal in crops."