Challenging Season for Various Crops – The Vegetable Farmer – Andy Richardson
"One of the most challenging onion growing years in my 30-year career..." ...
2021 is likely to be remembered by many vegetable growers, but not necessarily for good reasons. Not only have growers had to deal with a cold, late start to the season and a mediocre summer, but labour availability and logistics issues, coupled with cost inflation have created a perfect storm and provided an unprecedented number of challenges at the same time.
I think it's been one of the most challenging onion growing years I've had in my 30-year career," says Andy Richardson of Allium & Brassica Agronomy.
"Whilst January/February frosts gave us good seedbed tilth, heavy rainfall in December/January left medium/heavy soils pretty wet inside. We made a start to drilling/planting at the end of February but showery rain for the first three weeks of March stopped play and little was done until the last week of March." As a result, when conditions did improve growers were keen to get on, and a number of medium and heavy fields have suffered from cultivation pans from moving soil that was too wet.
The subsequent effects of which were made even worse by the cold, dry spring which followed.
"At the end of March and into April it turned very dry and depending on which part of the country you were in, there was little rain for over a month. While some early drilled stands are quite good, other crops are really struggling and some are finishing off and going down quite quickly, while others have a lot more growth to make. Crops on the lighter soils have generally done quite well, but crops on the heavier soils are quite variable; we've had some pretty poor establishment and low populations in some fields where we had dry conditions just after we drilled."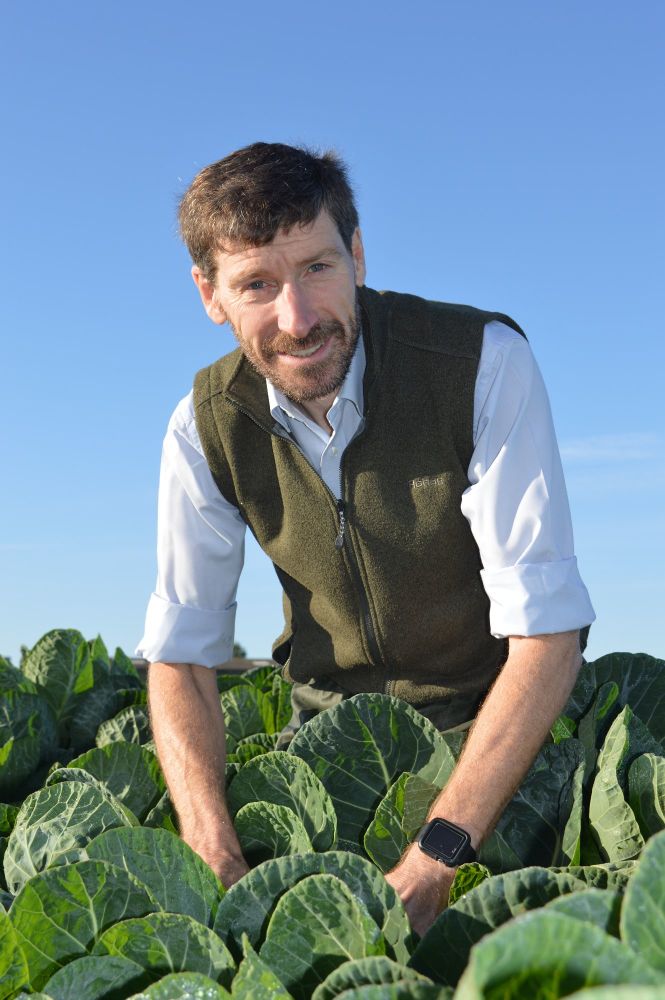 Andy Richardson of the Allium & Brassica Centre
Overall, he believes that most crops are around 10 days later than normal, and that harvest for around a quarter of the crop is likely to drag on into October.
"We started lifting set crops on the 12th of July, which is about normal and maincrop set yields have been some of the biggest in recent years. Crops really enjoyed the warm, showery weather in June and July," he says. "Drilled crops are however much more variable, but I think yields will be around or just above average depending on establishment for spring-drilled crops, which account for 75 per cent of production."
While yields may be slightly above average, bulb size is likely to be down on previous years, reducing the availability of larger 70-90mm packs. "Quality is now down to the weather we get at harvest," continues Andy. "If we have a good harvest season and a decent end to August and a warm dry September, then we should be okay. Dull, wet weather from now until the end of September would make it a real challenge, and we are going to have some quite late crops – probably 25 per cent of the crop will not be harvested until October.
"Warm showery weather in June and July means that l expect to see high levels of Fusarium in some crops, and there are also some quite high levels of downy mildew about in some crops, which will knock back yields and quality. Crops with high levels of downy mildew also tend to suffer from skinning and bacterial infections, which could then bring challenges in store. One positive is that although thrips started to appear around the middle of July, the dull wet weather wasn't great for them, so we haven't seen too many thrip issues and most people have kept on top of insecticide applications."
Salad growers have also had a challenging season. "We couldn't really have had much of a worse start to the season," says David Norman of Fresh Produce Consultancy. "It was very wet early on, with one of the coldest March to May periods on record and a number of frosts, particularly during April."
As a result, early crops were somewhat lightweight and there was some bolting in cold-sensitive crops like celery, but later sequentially planted crops have improved with the weather.
"The cold weather in April and May meant that crops just sat there and got nibbled back by the frost," he continues. "The cold January and February killed off quite a lot of overwintering aphids, so there were only a few aphids and nothing very early on in the season. As we got into May and June, we started to see a few peach potato aphids, but at relatively low levels, while there were moderate numbers of willow-carrot aphid, but they were all a week or two later than average."
Also, later to appear were Silver Y caterpillars, which didn't really appear until the middle of June. "We had a little hot spell in the middle of July and as a result there was more of caterpillar activity at that time, but we really haven't seen a lot of caterpillar or aphid activity during August as it's been quite cool and we've had some heavy rain," David adds.
"From a disease point of view, there was very little early on. With the cold weather we didn't see much mildew on lettuce until a couple of weeks ago in August, when it started getting unsettled, and since then we've seen a bit more mildew. There were also odd bits of sclerotinia during the summer, but nothing out of the normal."
Like all sectors, salad growers have been struggling with a lack of labour, which David says remains one of the biggest concerns. "Generally, we've managed to get crops cut but a lot of the Eastern European workers started drifting away, so it's been quite difficult, and costs have been pushed up as people don't want to work outside in the fields. The labour issue is driving things towards more automation in planting and harvesting."
Despite the weather, early demand for salad products was good through to July, although by August the unsettled weather was starting to affect demand. "We haven't really had any consistent nice, settled weather for the last three or four weeks, so demand has eased back a bit," explains David, who also points out that the industry still needs to address the demise of AHDB.
"There are concerns over the wind-up of the AHDB and how we are going to fund work such as minor crop protection approvals and the EAMU system, efficacy and residue trials, etc. There is a bunch of work which we are very concerned that the industry takes up. There is a lot of talk, but nothing substantial has happened yet, so it is a concern until something gets into place there."
Labour and the weather are also key concerns for brassica growers says Simon Jackson of Allium & Brassica Agronomy: "We were later to start cutting crops this year. It's been a difficult season in terms of orders and deliveries, due to ongoing issues with labour availability and the shortage of lorry drivers.
There is a strong desire among growers to move towards mechanisation, but we don't really have all the necessary solutions at the minute, but the empty trays we've seen in store this year are almost unheard of."
In terms of pest pressure, cabbage aphids have been an ongoing feature. "Normally we see a crash after the first wave of aphids, but this is the second year in a row when that hasn't happened, possibly due to the loss of seed treatments. Thankfully we haven't had too many aphids overall. Aphids kept appearing in crops all the way through July and we are still seeing them, not so much peach potato aphid, but cabbage aphids have been an ongoing issue," he says. "A lack of available chemistry means that on crops like broccoli and cauliflower we only have one in-field option for aphid control, which is far from ideal.
"Disease levels haven't been too bad, although we have seen quite a bit of clubroot which has been encouraged by the heavy showers we've experienced. One of the biggest challenges has been weed control, and we have really struggled with polygonums and fat hen." He explains that there were a number of dry periods earlier on which limited the effectiveness of residual herbicides, allowing the weeds to grow ahead of the crop." This means that by the time we are ready to hoe, the weeds are more advanced than we would want them to be, and we don't have the labour for hand weeding, even if growers could afford it. Nets are good for keeping vermin off the crop but taking them off in time also exaggerates the issue. It has been a very challenging year overall."
Open root crops were also affected by the early cold, although Howard Hinds of Root Crop Consultancy points out that early crops covered with fleece or polythene were buffered against the worst of the weather. "We got good establishment of crops because it was reasonably wet for a while, then we had a drier spell in June, so later-drilled crops struggled a bit, but the majority of crops got away in reasonable condition."
One of the changes this year was the loss of approval for Vydate (oxamyl), so growers have had to rely on NEMguard (garlic extract) or Velum Prime (fluopyram). However, Howard said that while nematode damage such as fanging was being seen, levels do not appear to be any higher than he would have expected had Vydate still been in use.
Unlike brassicas, pre-emergence herbicide activity was generally good, and while there are some weed issues in places, Howard says that growers started the season on a better footing than last year. "The big challenge is aphid control in May and June to avoid virus issues, and while there were hotspots of willow carrot aphid, it probably wasn't quite as bad as it had been last year," he explains. "We learnt quite a bit from that year, and having a lot of virus infection, growers have got their control strategies a bit tighter this year, so to date, we have seen much less virus than in 2020.
"We've seen more sclerotinia than we did the previous year, with June and July providing fairly high-risk conditions, but it has mainly been in early crops so far. Later crops are just starting to show symptoms, but nothing too alarming at this stage." He continues, Quality of early crops is good as the wet and warmish weather in July and early August bulked them up, so whereas in 2020 we were chasing the crop, at the moment there is plenty of early crop around, so hopefully demand will increase as we are getting good yields and quality."