Potential new herbicide for brassicas identified in trials – The Vegetable Farmer – Carl Sharp
With a focus on efficacy and minimal crop damage this year's herbicide trials have identified a potential new entrant in the brassicas sector ...
Led by Farmacy trials agronomist Carl Sharp, replicated plots explored mixes and straights of the market leaders and possible newcomers which are coded (see table).
Carl says: "We were pleased to see that those considered industry standards, such as WingP (dimethenamid-P + pendimethalin) and Gamit (clomazone), are still up to the job, but there was one new one in particular that stood out in terms of efficacy and crop safety."
(see TrT code 10)
"We are pleased that this herbicide will be brought forward by the manufacturers for approval for brassicas."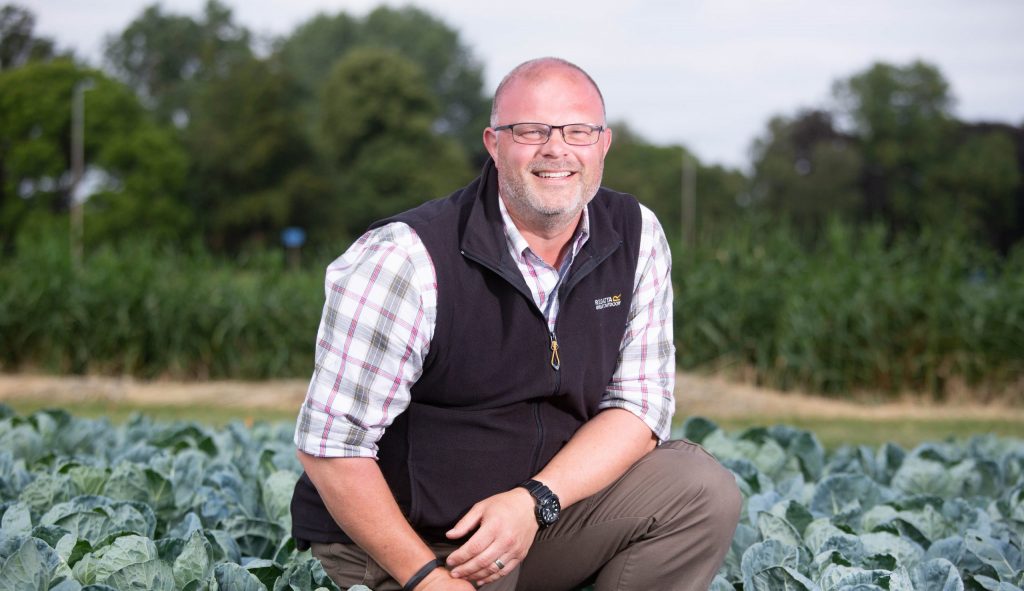 The trial also looked at an emerging co-formulation contact herbicide being developed for the brassica industry for use later in the crop's growth. Crop safety was good, and efficacy was better when weeds were still small up to two true leaves. "This puts it on a par with Lentagran (pyridate), which, to be fair, also works up to the two leaf stage."
Not all the herbicides trialled were crop safe in brassicas; so the research explored whether they caused less damage when used in a mix at reduced rates. "There were some actives that were really good on weed control, such as those coded as numbers 5, 6 and 7, but unfortunately they left the brassica crops virtually dead, so unfortunately they are no good for our sector."
Treatment number 10 also performed well in assessments of weed cover after 42 days, he reports. "There was no statistical difference with overall weed control between Treatment 10 and imethenamid + pendimethalin. By mixing WingP + Sultan + Gamit (dimethenamid + pendimethalin, cyflumetofen and clomazone), the weed spectrum targeted was broader, and were seen to be doing a good job."
Treatment numbers 17 and 18 showed good residual control after the 42 day period but crop damage levels were high when these actives were used.
The plots were set on Lincolnshire silts, and the weed burden was mainly redshank, with fat hen and groundsel. Planting was done on May 19 but because of high wind, it had been necessary to hold the application of the residuals until May 26. Contact herbicides were applied on June 23 in warm (20deg C) bright conditions.
"At planting the soil was quite dry, and despite a few showers after which the ground soon dried out the wind, it remained very dry. As this can affect the efficacy of the residuals, we had to irrigate one side of the field. Generally speaking, the residuals did not work as well as last year because of the very different, dry conditions. Nevertheless, for some residuals to work as well as they did when planting was done in dry, cloddy seedbeds, was remarkable and showed their class."
"With the loss of many items from our crop protection toolbox, and possible further losses, it is important to have a number of years of trials in potential alternatives to some products that have been the backbone of weed control.
Each year has very different weather to the last and this affects efficacy, so Hutchinsons is working to understand how a product is likely to react in each situation so growers can make informed decisions."
Overview of weed review
| TRT Code | Product | Rate/ha (L/Kg) | Application | Weed control comments |
| --- | --- | --- | --- | --- |
| H1 | Untreated control | | Untreated control | Lots of weed, clearly herbicides are having an effect, even in generally conditions. |
| H2 | Wing-P | 4 | Band sprayed | H2: This is a commercial standard. Weed control very good due to the inclusion of the Wing-P at 4L/ha, giving added control over the standard Sultan/Gamit. |
| | Sultan | 1.5 | Post plant | |
| | Gamit 36CS | 0.25 | Post plant | |
| H3 | Sultan | 1.5 | Commercial standard | H3: Working well, but really needs the inclusion of Wing-P to increase the weed control. |
| | Clomazone | 0.25 | | |
| H4 | Defy | 1.4 | Band sprayed | H4: Defy not working as well as the Wing-P in dry conditions. |
| | Sultan | 1.5 | Post plant | |
| | Gamit 36CS | 0.25 | Post plant | |
| H5 | Herbicide 01 | 1.5 | Band sprayed | H5: Really good weed control, however crop phytotoxic effects are beyond commercial acceptability. |
| | Sultan | 1.5 | Post plant | |
| | Gamit 36CS | 0.25 | Post plant | |
| H6 | Herbicide 01 | 1.1 | Band sprayed | H6: Good weed control, very unsafe to the commercial crop. |
| | Herbicide 01 | 0.65 | Post plant | |
| H7 | Herbicide 01 | 1.1 | Band sprayed | H7: Really good weed control, however crop phytotoxic effects are beyond commercial acceptability. |
| | Herbicide 01 | 0.65 | Post plant | |
| | Sultan | 1.5 | Post plant | |
| | Gamit 36CS | 0.25 | Post plant | |
| H8 | Wing-P | 4 | Post plant | H8: Similar levels of efficacy as Herbicide 03, although not quite as kind to the crop. |
| H9 | Stomp Aqua | 2 | Post plant | H9: Twin pack combination to give equivalent rate at 4L/ha Wing-P. Appears to give both better weed control and crop safety effects than Wing-P at the equivalent rate (most likely due to the C5 formulation and action of Stomp Aqua). |
| | Herbicide 02 | 1.2 | Post plant | |
| H10 | Herbicide 03 | 1.5 | Band sprayed | H10: A co-formulated herbicide, giving good levels of weed control during the dry conditions. Comparable with the standards for both efficacy and crop safety. |
| H11 | Herbicide 04 | 1.5 | Post plant | H11: This active by its self (half of Herbicide 03), mixed with Gamit really struggles with the dry conditions. |
| | Gamit 36CS | 0.25 | Post plant | |
| H12 | Herbicide 05 | 1.8 | Band sprayed | H12: Really good weed control, however crop phytotoxic effects are beyond commercial acceptability. |
| H13 | Lentagran | 1.4 | Post plant | H13 - H15: Applied approx. 4 weeds post planting. Various levels of weed development, however all products were only effective against cotyledon – 1tl weeds. All other weed stages grew out of the herbicide effects. |
| H14 | Herbicide 06 | 1 | Post plant | |
| H15 | Herbicide 06 | 1.5 | Post plant | |
| H16 | Wing-P | 4 | Post plant | H16: The inclusion of the herbicide / conditioner, increases the crop safety of applying Wing-P as a foliar herbicide, however it also appears to decrease its efficacy. |
| | Herbicide Additive / Conditioner | 0.4 | Post plant | |
| H17 | Herbicide 07 | 0.5 | Band sprayed | H17: Good weed control, however crop safety is an issue. |
| H18 | Herbicide 07 | 0.5 | Band sprayed | H18: Good weed control, however crop safety is an issue. |
| | Herbicide 01 | 1.5 | Band sprayed | |